Surveillance Equipment and Security Camera Installation
SAN DIEGO • POWAY • SAN MARCOS • SORRENTO VALLEY • CARLSBAD • LA JOLLA • RANCHO BERNARDO • DEL MAR • MISSION VALLEY • CORONADO • ESCONDIDO • OCEANSIDE
San Diego CCTV Pros provides professional security system design and installation services for commercial businesses throughout Southern California. With over a decade of industry experience in security system design and installation, our team excels at utilizing the most advanced security technology, video surveillance equipment, and security cameras to monitor your site and safeguard your property. We are proud to serve all of San Diego County, as well as nearby Orange, Riverside, and Los Angeles counties.
Advanced Security Technology and Remote Surveillance Systems From Leading Name Brands
We install hard-wired and wireless security systems from many of the industry's leading name brands, including Aiphone, Ares, Axis, ExacqVision, Eyemax, GeoVision, Lorex, Magic, Pelco, Speco, and Storm. We continue to trust these brands because of their outstanding performance, exceptional reliability, and proven longevity.
Our commercial-grade remote surveillance solutions can be customized to suit a wide range of security requirements and price points. Available options include, but are not limited to: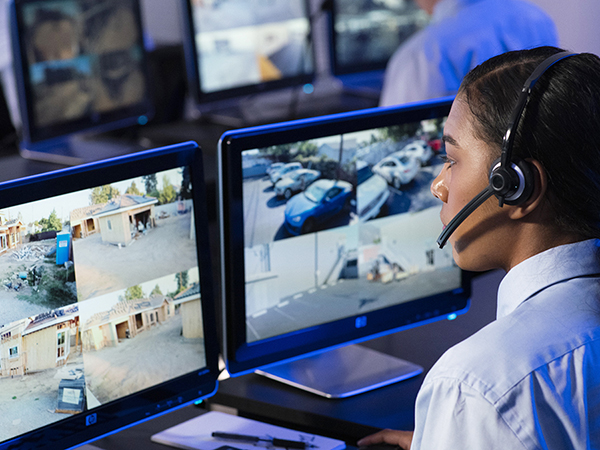 Pan, Tilt, Zoom (PTZ) cameras
Thermal imaging cameras
High definition cameras
4K resolution cameras
Vandal-resistant cameras
License Plate Reader (LPR) cameras
Fisheye cameras
Experienced Security System Installers of Hard-Wired and Wireless CCTV Cameras and Video Surveillance Equipment
For the best in permanent, secure, and cost-effective CCTV surveillance solutions, call on San Diego CCTV Pros. We have over a decade of experience in commercial security systems and are among the most experienced surveillance equipment installers in San Diego County. Our technicians are highly trained and certified in most security systems on the market and have the knowledge and technical expertise to install all types of hard wired and wireless security equipment.  While we prefer to install hard-wired systems because of their superior reliability, we are equally adept at creating commercial-grade wireless connections that are more dependable than standalone wireless cameras.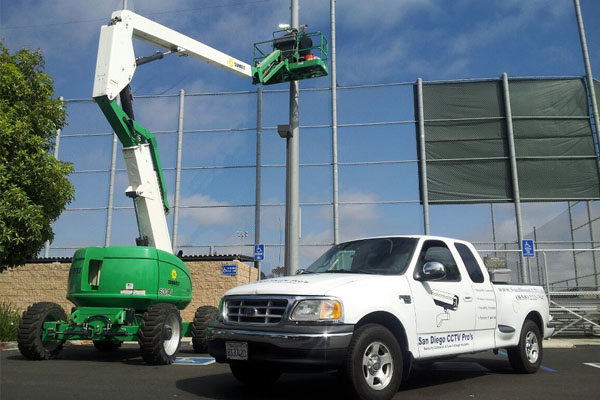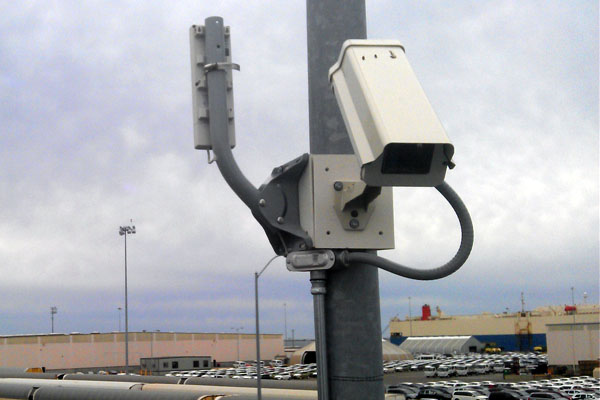 Security Solutions for San Diego Commercial and Industrial Businesses
At San Diego CCTV Pros, we can design and implement security camera solutions to meet the needs of any San Diego County business. We provide reliable, affordable, and comprehensive security solutions for construction sites, parking structures, car dealerships, property management companies, amusement parks, government offices, energy plans, business parks, and more. With a team of experienced technicians and a fleet of well-stocked service vehicles, we are equipped to handle installations of all sizes, from a few indoor CCTV cameras to complex security installations that integrate multiple lines of sight, secure access control systems, motion sensors, and remote virtual guard services.
Because of our years of experience and industry knowledge, we are experts at placing security cameras and configuring video surveillance systems to provide excellent fields of coverage and effectively monitor entrances and exits, building perimeters, and interior access points. We can also offer advice on the use of enhanced security features such as facial recognition software, license plate reader cameras, and video recording capabilities, which can produce valuable evidence for police reports and court cases.
In addition, we offer short-term and long-term leases on solar-powered mobile surveillance towers and trailers that are ideal for locations with limited access to a steady power source.
Free Onsite Estimates & 3-Year Warranties on New Installations In San Diego County.
Give us a call today to schedule a free onsite security consultation in Poway, San Marcos, Sorrento Valley, Carlsbad, Rancho Bernardo, Del Mar, La Jolla, and surrounding areas of San Diego County.  Our consultations include thorough on-site threat analysis and accurate cost assessment by an experienced security professional.
All installations performed by San Diego CCTV Pros include a three (3) year warranty on hardware (cameras, recording systems, hard drives, etc.), and complimentary remote technical support for the first year following installation.
We offer incredibly competitive pricing on all security system installations for San Diego, Orange, Riverside, & Los Angeles counties.