Your peace of mind is our business.
Schedule Your Free Estimate
Los Angeles' Best Choice for Advanced Security Solutions
GET A FREE QUOTE
Fill out the form and a specialist will contact you at the phone number provided.
Los Angeles County's Best Value for Fully Customized Security Solutions
SERVING THE GREATER LOS ANGELES AREA
LOS ANGELES - LONG BEACH - PASADENA - CITY OF INDUSTRY - SANTA MONICA - PALMDALE
Schedule Your Free Estimate
Effectively Protect Your Los Angeles Business at an Affordable Cost
Now serving all of Southern California, San Diego CCTV Pros is able to provide its broad range of high-quality security and surveillance services to commercial properties throughout Los Angeles County as well as San Diego and Orange County.  Since 2008, thousands of clients have relied on our cutting-edge security solutions to provide effective protection against vandalism, theft, trespassing, loitering, and other criminal and unwanted activity.  While there are many security system providers to choose from, San Diego CCTV Pros stands out from the rest because of our excellent reputation, experienced team, personalized service, and unbeatable prices.
San Diego CCTV Pros is a licensed C7 (low voltage systems) contractor and partners with leading manufacturers, such as AT&T, Vtech, Eyemax, Visonic, Dell, Geovision, Linear, and many others.
Our solutions can include any or all of the following:
Intercom systems
Data networks
Virtual guard services
And more!
We can also provide virtual guarding or live remote security camera monitoring services.
Call San Diego CCTV Pros today to learn more or to schedule your free security consultation. You can trust our experts to design and install a security and surveillance system that meets your unique set of needs.  Locally owned and operated, we serve all of San Diego County as well as Orange County, Los Los Angeles County, and surrounding areas.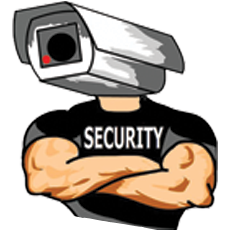 State-of-the-Art Security Technology & Personalized Security Services Tailored to Your Needs
When you call on San Diego CCTV Pros, you can expect to work with a team of well-trained security professionals who are dedicated to meeting your needs and improving your safety. Each of our technicians has upward of 8 years of experience and remains up-to-date with the industry's best practices, techniques, and technology. Using only the best in video surveillance equipment and software from top manufacturers, such as HikVision, GeoVision, Honeywell, Axis, and EnGenius, we are highly capable of creating and implementing versatile, adaptable security solutions for properties of any size anywhere in Los Angeles County.
Innovative Security Solutions for Los Angeles County Businesses
San Diego CCTV Pros is your #1 choice for video surveillance systems, security cameras, remote CCTV monitoring, business phone systems, and much more!
SKu: GV-BX12201 Up to 15fps@ 4000×3000, 30fps @ 3840×2160 Built-in/external microphone Varifocal lens 4.1mm-9mm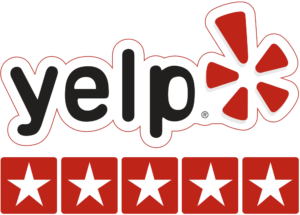 "If Yelp offered 6 stars I would have chosen that option. Judah and his tech were able to troubleshoot a networking issue with my home security system that the original installer could not resolve after 3 attempts. Don't waste your time going anywhere else for all your home security needs. I just wish I found these guys sooner, it would have saved me a lot of frustration ( and money)."
Jeff H.
VIRTUAL SECURITY GUARD SERVICES IN LOS ANGELES, CA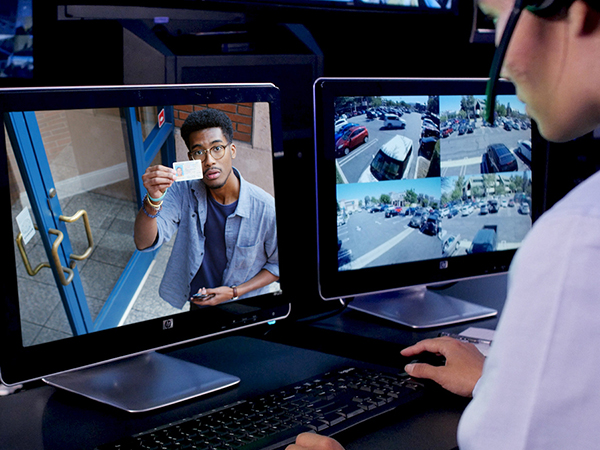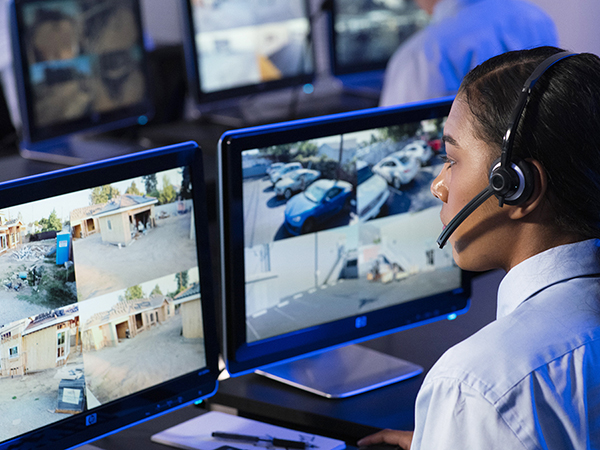 For premium coverage, Los Angeles businesses and property managers choose our live remote CCTV monitoring services, also known as virtual security guard services. Often considered the future of private security, virtual guarding offers improved surveillance capabilities and real-time intervention for a fraction of the cost of traditional on-site standing guards.
With your virtual guard services, you get the peace of mind that comes with knowing your property is being monitored 24 hours a day, 7 days a week by trained remote guards via strategically placed, multi-point camera systems. Each CCTV camera is equipped with motion detectors that immediately alert a remote guard of any unusual or suspicious activity on your property. The guard can then use two-way loudspeakers to communicate with potential trespassers, letting them know that they are being watched and recorded. If further intervention is required, guards will notify local law enforcement.
To learn more about how our virtual guard service works, click here or give us a call today!
MOBILE SURVEILLANCE UNITS & TOWERS
Our portable security camera systems are a great option for expansive properties and remote job sites with limited internet service, poor visibility, multiple points of entrance/exit, and other conditions that leave them particularly susceptible to crime. Solar-powered and self-sustaining, mobile surveillance units and towers eliminate the need for on-site power and internet and can be used to reliably monitor: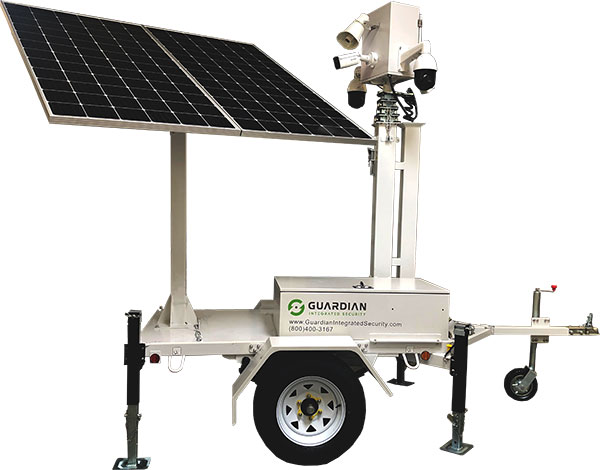 Parking lots/garages
Construction sites
Government offices
Industrial facilities
Commercial warehouses
Shipping yards/ports
Recreational facilities
Defense facilities
Distribution centers
Golf courses
Government office
Zoos
Museums
Amusement parks
Business parks
Industrial parks
Airport hangars
By having mobile surveillance units professionally installed by San Diego CCTV Pros, you can rest assured that your entire site is being effectively monitored and free of any blind spots. A member of our team will visit your commercial property in or near Long Beach, Pasadena, City of Industry, Santa Monica,  Palmdale, & surrounding Los Angeles cities for a free on-site assessment and threat analysis. We will provide a same-day quote and can typically accommodate same-day deployment of your unit(s).
Learn more about our short-term and long-term leasing options, available security camera features, and premier service options here.
10 Reasons to Choose San Diego CCTV Pros
Schedule Your No Cost, No Obligation Security Assessment With San Diego CCTV Pros Today!
To best understand your unique needs, San Diego CCTV Pros will visit your Los Angeles property for a no-cost, no-obligation on-site consultation, during which we will perform a thorough threat assessment of your property. We will identify any vulnerabilities, listen to your concerns, and provide expert recommendations for creating a safer environment at a price you can afford. We serve the security needs of clients in Long Beach, Santa Monica, Pasadena, City of Industry, Palmdale, and other surrounding Los Angeles cities.