Burglar Alarm & Monitoring in San Diego
Every home or business needs to feel safe, secure, and protected at all times. Well, here at San Diego CCTV Pros, we have the solution to make that happen. We install alarm systems based on your specific house or business in order to create a more personal experience. We use top of the line products from Visonic so that you know your protection is always in good hands with us. Here are a few products that we use:
PowerMaxPro
This system is an all-in-one, professionally built and manufactured, and has everything that you would need in an alarm system. Not only will this protect you when you are home or away, but it also has the capabilities of allowing you to control everything when you are gone. If you forget to set the alarm when you leave, no problem, lock up from a remote location. The internal PowerLink module makes managing your alarm system so much easier and with no stress or worries.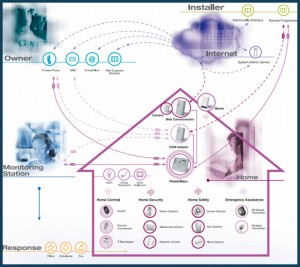 Features:
Specific high end designs
Self-contained
Built-in modules with multiple options
Internal PowerLink module has real-time watching and system operations
Internal GSM/GPRS communicator
Internal Broadband IP communicator
Internal RFID (proximity tag) reader
External voice box
Integral X-10 interface for home management – alarms, lights, home appliances control.
Event reporting to: monitoring stations, pagers, SMS messages, e-mail, web applications, mobile phones, landline phones
Two-way system with diversity antenna enables support for Visonic's two-way sirens and two-way key fobs for instant feedback from the system
Internal or external power supply
Elder care application
LCD-based user interface
28 wireless zones with additional 2 hardwired ports, 1 12v hardwired siren port and 1 PGM port for full coverage of connectivity options
72 hours of battery backup
Supports 8 user codes
Full compliance with most international standards including FCC, EN50131 Grade 2 and more
The Latest Wireless Technology:
Visonic's PowerMaster Intrusion alarm systems